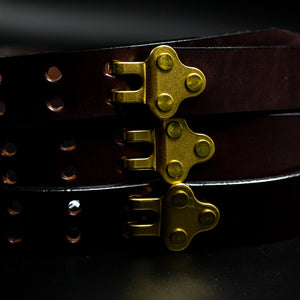 Claw Belt, Havana
Sale price Price $95.00 Regular price
Belts are often an underrated and neglected accessory, yet they are the perfect way to add some personality to your outfit. Inspired by a gun sling, the claw buckle on our belt is sure to grab anyone's attention.
Details:
Bridle leather
Brass claw buckle
For this particular belt, we recommend the same size as your pant waist
Styling Tip: Pair color of belt with other accessories, shoes in particular. For example: If you are wearing brown shoes try to go with a brown belt to match. The closer the colors match up the better, but brown doesn't have to be exact. You can get even more detail oriented by matching the color of the buckle with your other accessories. For Example: you may choose to pair a gold buckle with a similar gold buckle or piece on a shoe, gold frame of sunglasses, a gold watch, or maybe even gold cufflinks or tie bar. And never be afraid to mix leather colors. Brown leather boots paired with a black leather jacket and vice versa is very bold and looks great, but still match the belt to the shoes not the jacket in this case. 
Made in America